Looking for transportation?
Book your private Cabo airport transportation
from $75 USD
Los Cabos Airport Private Service
Cabo Airport Private Transfer® provide Private, safe and reliable Transportation from Los Cabo Airport to your Hotel in different parts of the area, like San Jose del Cabo, Pueto Los Cabos Area, Turist Corridor, Cabo San Lucas, Pafic Area, Todos Santos, La Paz, Los Barriles
We know that when you are landing at Los Cabos Airport the only thing you want is to get to your Hotel or destination as fast as possible and that's why we provide our Transportation service which you have to pre-book so we can be waiting for you at your arrival. Remember our transportation is private, safe and fast.
Cabo Airport Private Transfer®  we will provide private transportation to and from your Hotel, Condo or house in any destination in Los Cabos either One Way Transportation or Roundtrip Transportation.



Private Transportation Pre Booked Airport Transportation was good, they help us out a lot we recommend them Dinner transportation to flora farms, acre, or to restruants in cabo as well
Excelente! Got service round trip. Puntual. Responsible drivers. Vehicles perfect condition. Recommend without any reserves.
Inspiration800512
2023-01-01
Best Cabo Transportation Experience! Outstanding service! Scheduled private transportation multiple times with this company and will use them again. Communication was excellent and very timely. Were very flexible with time changes when airline cancelled and needed to reschedule pick up. Vehicles were really nice, drivers always very friendly and service oriented, on time and very safe. Would highly recommend!
Out yourself at ease Having never been to Cabo San Lucas I had my concerns but everything about this put us at ease. The driver, Mr. Luna, was right on time. When he dropped us off I left a bag in the car, completely my fault. He came right back and dropped it off. If you are looking for a transfer this is a GREAT service and value. I will use them again and again.
Fantastic Service - Worth the extra $ We enjoy a hassle free transportation company and they are it! They are always easy to get ahold of, very flexible with multiple arrival and departure changes. The drivers are friendly and always have cold beer and "good water" to drink on the trip to the resort or hotel.
Easiest airport pickup I used this company on our previous Cabo trip and again this year because they were such a great experience. Our driver was on time and waiting for us with a sign. Great driving and friendly service.
Great Experience We have used many times on our trips to Cabo. Always an excellent experience. Will of course use them again on our next trip.
Cabo Airport Transfer Cabo Airport transfers was at the airport when we arrived. The driver was pleasant, friendly, and very professional. The SUV was extremely clean, roomy and we had a very nice ride to our villa. We stopped at the grocery store while our driver waited and he helped us load and unload our groceries. We had a very good experience with our airport transfer from SJD to Pueblo Bonita, and the cost was reasonable at $180 round trip.We used Cabo Transfers for roundtrip transfer to two restaurants on two different days and the total charge was $300 or $150 per trip which is excessively expensive. We took a taxi to the grocery store mid week in the same area as the restaurants. The taxi waited for us and took us back to our villa for $60.I would recommend Cabo Transfers for transport from the airport, I would not recommend this expensive transport while in Cabo. Taxis and Uber are readily available and much more economical.
A Wonderful Go To Company for An All Round Experience Cabo Airport Private Transfers takes the stress out of getting to and from the airport. The comfort of the vehicle and the friendliness of the driver make for an enjoyable journey. We also used CAPT for a private tour to Todos Santos. Can't say enough about our host, Hugo, for the wonderful trip that he put together for us. We thoroughly enjoyed our day and got to experience some of the traditional Mexican life in the Baha Peninsula. Would highly recommend Cabo Airport Private Transfers for your trip.
On time and good priced airport transfer Took a private transfer for our group from the airport to the hotel. The driver was waiting for us with a sign exactly where they said he would be. Clean car, cold beer for the drive and a very competitive price. Overall a very good service.
Want to read more reviews from Cabo Airport Private Transfer ?
TAKE A LOOK AT OUR TRIPADVISOR PAGE
Book Your Next Adventure!
Fee starting at
Shared Shuttle Round Trip
$48 USD per passenger
Fee starting at
Shared Shuttle Round Trip
$53 USD per passenger
Fee starting at
Shared Shuttle Round Trip
$60 USD per passenger
Fee starting at
Shared Shuttle Round Trip
$80 USD per passenger
Our Services Include:
 Grocery stop additional cost
Gratuities not included, Price in US dollars subject to change without prior notice, Read our FAQ and Cancellation Policy before booking.
Where To Find Cabo Airport Private Transfer Representative?
When you arrive at the airport, please ignore the people inside of the airport who
are selling timeshare, Cabo Airport Private Transfer does not have staff inside of the airport.
Cabo San Lucas,
Baja California Sur, Mexico.
Domestic Flight Terminal 1
TERMINAL 1: After Getting your bags at terminal 1 and pass detector as you come out and turn RIGHT TO Exit the AIRPORT we will be there where you will see airport Parking Lot DRIVER will be there waiting for you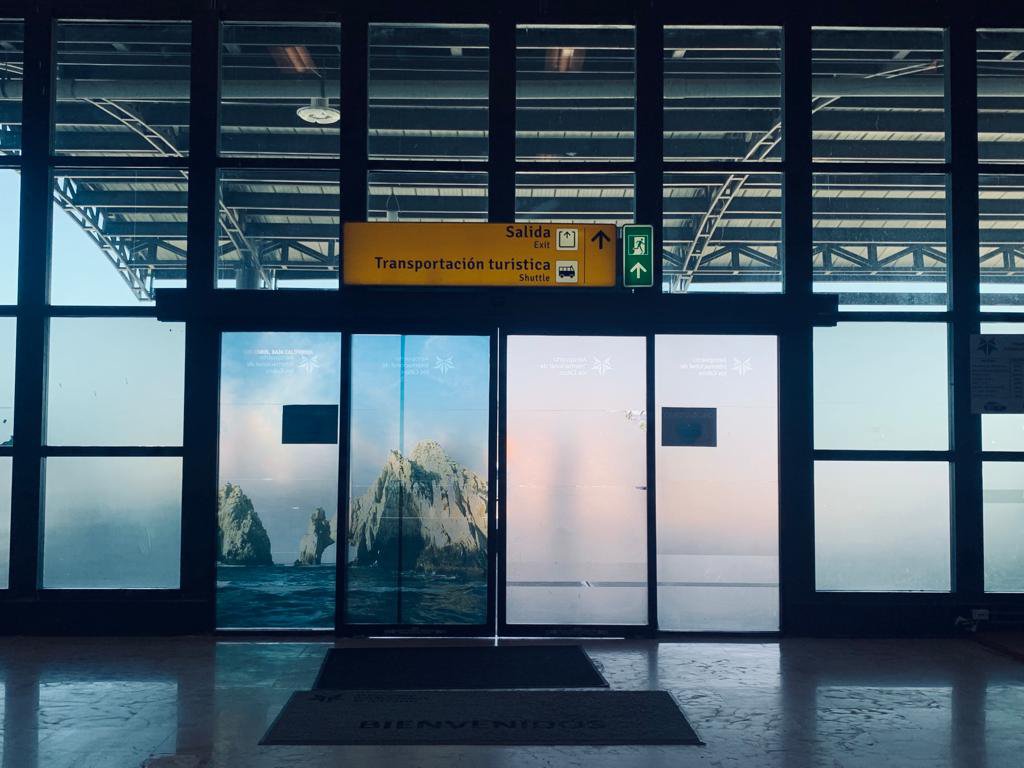 International Flight Terminal 2
TERMINAL 2: After picking up your luggage Exist the airport Go all the way outside the airport through the double sliding glass doors, where we will be Underneath Awning# 10 The driver will be waiting for you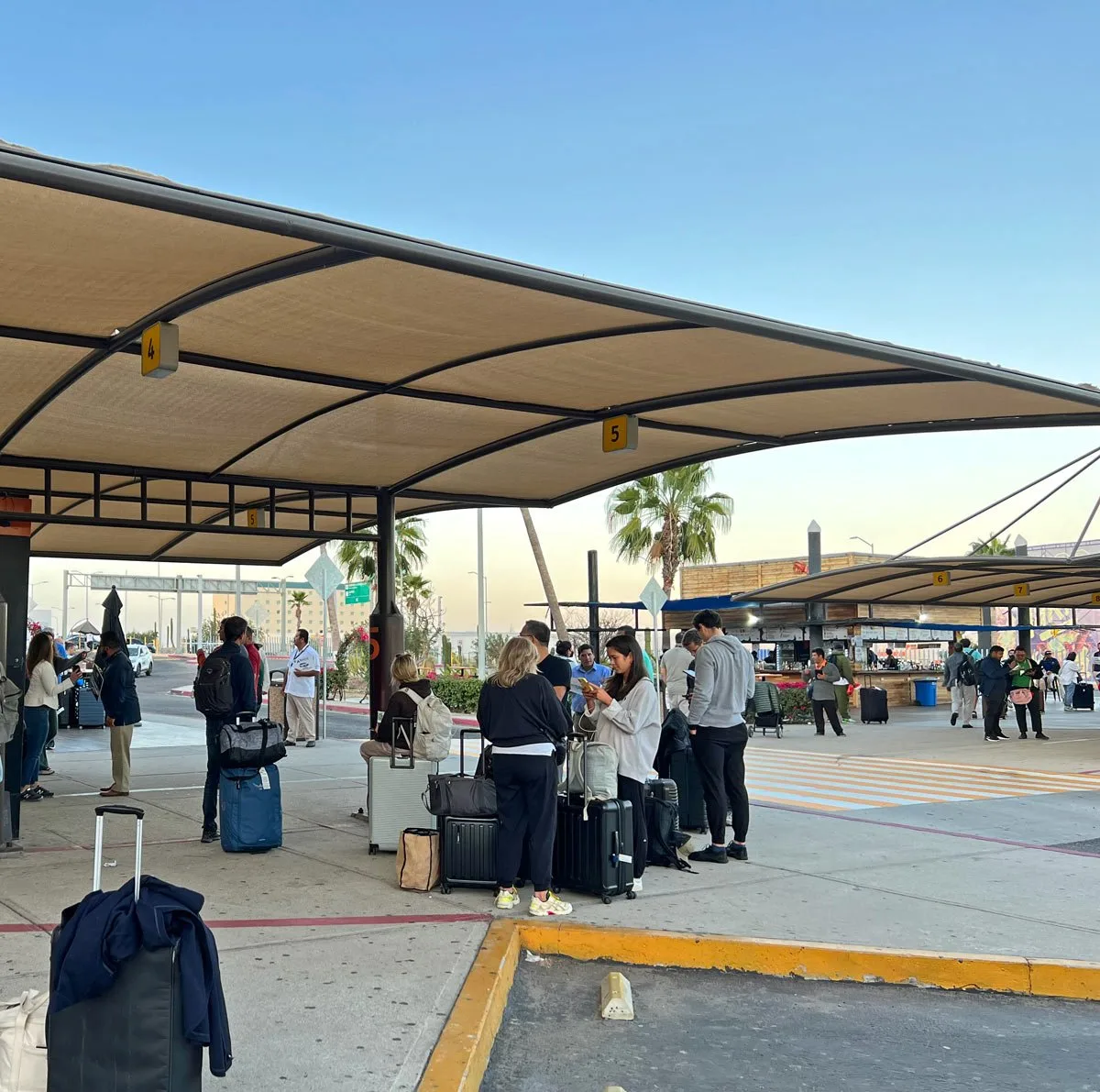 Due to the new regulations at the airport, the car will not be able to be inside the airport parking lot as before. So you should wait 10 to 12 minutes with the representative, who will call your driver once you are with him and then your car will come because the car will no longer be there. Sorry for the inconvenience, but this is the new airport rule with all private transportation.